Fear metal braces? No problem – discreet teeth straightening in Kent
18 August 2016
Tooth straightening need not involve metal braces; at Staplehurst Dental Practice in Kent we realise that this can be a big barrier to treatment for many adult patients, which is why we offer several more discreet ways to straighten your teeth.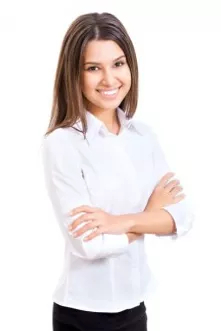 This may involve the use of fixed tooth-coloured braces, or of clear, removable aligners. Each appliance is best suited to a specific set of clinical circumstances, so your Kent dentist will undertake a thorough examination before recommending the best option to suit your needs.
One of the key things to remember about tooth straightening, whether you use braces or aligners, is that you will gain more than just aesthetic benefits. In a nutshell, straighter teeth tend to be healthier teeth because they are easier to keep clean. Reducing the number of awkward gaps where plaque can build up can cut your risk of gum disease and tooth decay – two leading causes of tooth loss.
Of course, you will need to practise good hygiene at home, and visit your dentist and hygienist as often as they recommend. If you are prescribed discreet braces at our Kent clinic, you will also be encouraged to pay a visit to the hygienist to learn how to clean around them effectively.
Kent braces and aligners
Six Month Smiles
Six Month Smiles are a popular system of cosmetic braces that act, as you've probably guessed already, in an average of just half a year. They are able to act so quickly because they focus on the front six teeth – those that show when you smile. It is these teeth that the majority of patients at our Kent dental practice are interested in aligning.
Unlike conventional braces, Six Month Smiles comprise clear and tooth-coloured parts, which means that they blend in well with the natural colour of your teeth.
Invisalign
A popular alternative to fixed braces, Invisalign treatment involves the use of a series of clear, removable aligners to gently guide your teeth into a new position. Dental hygiene is a breeze with Invisalign because you don't need to adopt any special techniques: just remove them to clean and brush your teeth.
Back to Blog