It's time to smile with dental implants
16 March 2017
For many people, their smile is their most important feature. But if you have lost teeth through decay, gum disease, accident or even the wear and tear that occurs over time, you may feel that your smile is not all that it could be.
Studies have shown that when a person is truly smiling, it affects certain muscles that make you feel happy or joyful. You smile because you are happy and when certain muscles are hit, your brain sends even more happy signals out.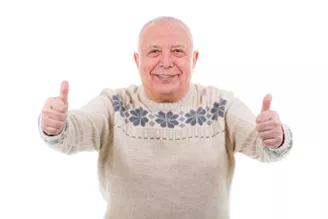 It is also no secret that our emotional health is tied linked to our physical health. Since smiling can make you happy, you may very well live a healthier, more relaxed life than those who regularly frown. Smiling actually boosts your immune system and so helps ward off infections such as colds.
If you lack the confidence to smile because of missing teeth, then dental implants in Kent may be the answer. Here at Staplehurst Dental, we can provide you with experienced, highly qualified implant dentists.
Not only are all our dentists registered and qualified with the General Dental Council, but we also have a very stringent vetting process. So we are confident that we can live up to your standards when it comes to your dental implants in Kent. The implants used by all of our dentists are reliable, safe and recognised brands.
Am I suitable for dental implants?
In general, if you have lost teeth you are a candidate for dental implants in Kent. It is important that you are in good health, however, as there are some conditions and diseases that can affect whether dental implants will be successful. For example, uncontrolled diabetes, cancer, smoking, alcoholism, or uncontrolled gum disease may affect whether your dental implants fully integrate with your jawbone, as they will in a healthy individual.
It is important to let your dentist know all about your medical status, together with any medications you are taking, whether prescribed, alternative or over-the-counter. All this will give our dentists the information they need to know about your suitability for dental implants in Kent.
Back to Blog