Replace lost teeth and their roots with dental implants in Kent
14 February 2017
Dentures aren't the only way to replace missing teeth, whether they have been lost through tooth decay, gum disease, injury or accident, all of which can happen at any age. Modern dentistry means lifelong denture-wearing is no longer the only option available. Dental implants in Kent at Staplehurst Dental Practice provide a modern, durable alternative solution to missing teeth.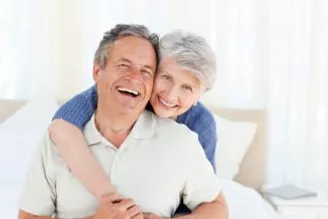 What are dental implants?
Dental implants are artificial tooth roots made from lightweight titanium screws. When they are inserted into the jawbone, they stimulate new bone to mesh around them. This provides a firm foundation on which to fit replacement teeth. These teeth do not slip around like dentures often can, even when you eat tough and chewy foods. Dental implants also provide you with long-term health benefits.
Over time, tooth loss can cause degeneration of the jawbone and recession of the gums, even among denture wearers. In Kent, dental implants prevent this, giving you a strong, healthy facial structure for years to come.
The procedure
At Staplehurst Dental Practice, your dental health is in the capable hands of Dr Afshin Louie. He will thoroughly examine your mouth before he puts together your personal dental implant treatment plan. Whether you have lost one, several, or all of your teeth, Dr Louie has the skills and tools to restore your lost teeth with dental implants.
Dr Louie will insert your implants under local anaesthetic, and if you are nervous, you can also receive sedation. After a period of healing, during which your implants will be meshing with your bone tissue, you come back to us to have your custom-made replacement teeth fitted. These new teeth are made from porcelain, which is colour-matched to your surrounding natural teeth, and shaped and sized to blend in with them as well.
This means that no one will ever even suspect that your new implants are not your own natural teeth, and they will not be giving your secret away by wobbling around in your mouth.
Tooth loss is a bid deal for anyone, and if you are not happy about wearing dentures or a bridge, maybe it is time to come and see us here and find out if dental implants in Kent are right for you.
Back to Blog