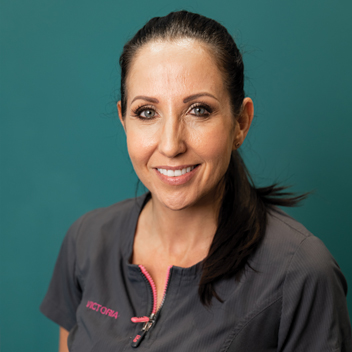 Mrs Victoria Einfeldt
Company Director, Dental Therapist & Dental Hygienist
Dental Therapist & Dental Hygienist 2004
GDC No. 6589
Since qualifying as a dental therapist and hygienist at the Eastman Dental Institute in 2004, Victoria has taken on a number of roles at the practice.
Her work has been acknowledged in an article about the quality of her natural looking composite (white) fillings in the dental press.
She is vastly experienced in treating nervous or special needs patients, including adults and children. Victoria's gentleness and patience mean she often has patients referred to her who are extremely nervous regarding any dental treatment. In this capacity alone she is an absolutely invaluable asset to the practice.
In her clinical role she is licensed to give local anaesthetic to patients and perform restorative dentistry such as fillings and fissure sealants.
Victoria also enjoys playing a pivotal role in Staplehurst Dental Practice's outreach program – the ' School Dental Health Programme' -visiting schools to teach younger children all about dentists, how to take care of their teeth and, most importantly, to allay any fears they may have.
In her spare time she likes to do dance classes in the gym if it involves modern music and to spend time with her family.
Back to team