The other way to get your teeth straightened
16 February 2017
If you talk about teeth straightening to most people, an image of a set of teeth with brackets and wires strung across them will pop into their minds. This is what most of us associate with orthodontics. There is, however, another way to get braces in Kent that doesn't involve brackets and wires, and it can barely be seen.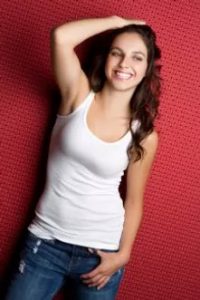 In Kent, braces also come in the form of thermoplastic resin trays, or aligners, that fit so snugly over the teeth that they are virtually invisible. This system of teeth straightening is becoming increasingly popular.
Here at Staplehurst Dental Practice, we use a brand of aligner called Invisalign.
How Invisalign works
The trays are made from impressions taken by your dentist. Invisalign's laboratory in the United States processes the impressions, using them to calculate the trajectory along which your teeth need to move to become aligned. The laboratory makes a series of aligners, each representing one step along the way from your teeth's current position to their final aligned position. The pressure that the rigid plastic applies to the teeth is what gently nudges them along to their new destination.
Each tray takes about two weeks to do its work, and when the pressure has worn off, it is time to move on to the next one. You will need to wear between 12 and 48 trays, depending on your individual case.
Invisalign clear aligners have other advantages that stem from the fact that these aligners are not fixed to the teeth, but are removable. This makes them, and your teeth, much easier to keep clean. Also, you can take them out if you don't want anyone to see you are wearing aligners, perhaps for a super-special event like a wedding or a hot date, a job interview, or a highly important business meeting.
The Invisalign range
Here at Staplehurst Dental Practice, we offer two variations on the Invisalign theme, as well as the original Invisalign system.
Invisalign i7: This is great for minor corrections and can take as little as three months to complete.
Invislign Teen: Perfect for teenagers, this system allows for teeth that have not yet fully formed, the odd loss of an aligner and days of skipped wear.
Come and see us
Curious about invisible braces in Kent? Find out which Invisalign system can deliver the right treatment for you in a free consultation, by contacting us on 01580 363526.
Back to Blog