Why dental implants are often the perfect way to replace missing teeth
24 May 2016
For modern tooth replacement options, look no further than dental implants – small titanium screws that replace the root portion of one or more missing teeth, creating a firm base on to which new teeth are then attached. At Staplehurst Dental Practice in Kent, we are able to replace one, some, or even all of your natural teeth with implants.
Why you should replace missing teeth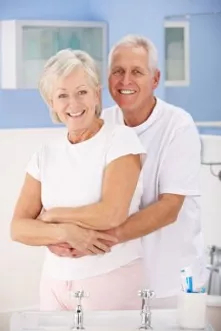 Missing teeth cause many people to hide their smile away in public, which can have serious effects on their self-esteem, as well as their interactions with others in the personal and professional sphere. When several teeth are missing, the jaw bone is likely to shrink back or resorb, which can make future placement of dental implants more complex (although still possible) and can cause a sagging of the facial skin.
Even one missing tooth can cause other teeth to shift position into the gap, getting crooked and twisted in the process and thus more difficult to clean, which can ultimately increase your chances of further tooth loss. So if you ask any dentist they will tell you to replace your missing tooth or teeth, and in many cases dental implants are the best way to do this.
We place dental implants under local anaesthetic at our Kent practice, so you should experience no pain. Your dentist will undertake extensive planning prior to implant placement to avoid any nerves, so post-operative discomfort should be mild, and in most cases manageable with over-the-counter painkillers.
In most cases your implants will be left to heal and mesh with your jaw bone before abutments and finally your new teeth are attached on top. However, if you are suitable for All-on-4 implant placement, these stages may all be completed at the same time.
Back to Blog