A guide to teeth straightening for adults
8 September 2016
In the 21st Century, there is so much more to teeth straightening than just obvious metal "train-track" braces. Staplehurst Dental Practice in Kent recognises the need for discretion when it comes to modern teeth straightening, particularly for adults. That's why we are proud to offer several subtle options designed to give you that beautifully aligned set of teeth you've always dreamt of.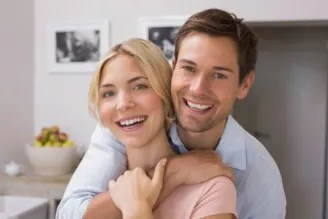 An increasing number of adults are turning to teeth straightening later in life. It could be that you missed out on orthodontic treatment as a child, or that you had treatment only to lapse during the retention stage, meaning that your teeth shifted back out of position.
Whatever the cause of your orthodontic concerns, a teeth straightening consultation at our Kent dental practice can help. As well as being more discreet than traditional metal braces, many of the subtle appliances we use have greatly reduced treatment times, too.
Kent teeth straightening options
Modern teeth straightening treatment can involve the use of a fixed appliance – a brace – or a removable appliance – an aligner – to improve tooth positioning and alignment. We use both types of appliance at our Kent clinic, and your dentist will perform a thorough clinical examination to determine which will work best for you.
Depending on your clinical need, your Kent dentist may recommend:
Six Month Smiles
Braces are the familiar face of teeth straightening treatment, but Six Month Smiles are not like other braces. They are made from tooth-coloured nickel-titanium wires and clear ceramic brackets, meaning that they will blend in with the natural colour of your teeth.
They work in an average of just six months because their main focus is on the front teeth – those that show when you smile. Because lower forces are used during treatment, it is more comfortable than traditional orthodontics, too.
Invisalign
Invisalign is a clear, removable aligner that fits snugly over your teeth. If your Kent dentist decides this is the best teeth straightening option for you, you will be prescribed a series of comfortable clear, removable aligners, which you change every fortnight as your teeth begin to move.
Back to Blog