All you need to know about dental veneers in Kent
23 May 2017
Everybody can benefit from a beautiful and confident smile, but not all people are born with perfect teeth. However, not everyone is willing to undergo invasive and often expensive treatment in order to fix their smile imperfections.
At Staplehurst Dental Practice, this is not a problem at all. We will help you cover up those teeth imperfections with porcelain veneers in Kent. Whether you wish to straighten, whiten or reshape your teeth, veneers can help you achieve your cosmetic goals in a cost-effective and natural way.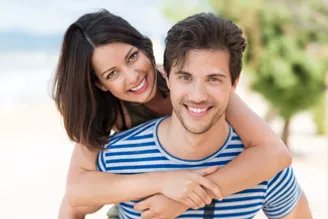 What should I expect?
Porcelain veneers are thin pieces of porcelain used to reconstruct the natural look of teeth, while also providing strength and elasticity comparable to natural tooth enamel.
Generally, you'll need to visit the practice three times for the entire process. During your initial visit, we will talk you through the procedure thoroughly and help you decide whether this is the right treatment for you. In your second visit, we will prepare your teeth for the veneer, as the thickness of the veneer will have to be accommodated. This will be achieved by removing a very thin layer of enamel from your tooth. We then take an impression of your teeth in order to make your custom-made veneer. During your third and final appointment, your dentist in Kent will bond the veneer to the front of your tooth and you are good to go!
Veneers feel smoother and lighter than real teeth. They will be a bit sensitive for the first week or so, but you will gradually overcome this feeling as they bond closer to your own teeth.
What is the lifespan of dental veneers?
The lifespan of dental veneers differs from person to person, as wear and tear can be different for each patient. However, veneers last between 10 to 15 years and can be easily replaced. A determining factor for the longevity of your veneers is your overall dental hygiene. If you take good care of your teeth and gums, your veneers are bound to last longer.
Interested in dental veneers in Kent? Contact us and book your free consultation today. We also accept a range of dental insurance plans.
Back to Blog