Exploring your options for teeth straightening in Kent
8 December 2016
Whatever your reaction is to the idea of teeth straightening, at Staplehurst Dental, we want to help you go ahead with it if that's what you want. It may be that the whole process is much faster, more comfortable and more discreet than you imagine.
There are a lot of options out there to choose from when you are considering teeth straightening in Kent. At Staplehurst Dental, we are proud to work with two of the leading dental brands to offer you the freedom of choice.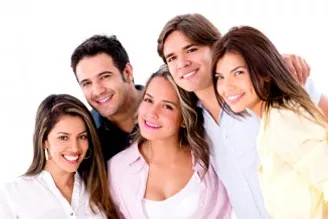 What is important to you?
In order to help you decide which treatment you want, you need to know what options will suit you. To find out, you can have a detailed assessment of your smile at the dentist. At this point, you can also talk to them about what is important to you.
Do you want a budget option, fast treatment or an aesthetically pleasing solution? Perhaps you have a pressing dental issue that you think will be solved by teeth straightening. Let your dentist know what your priorities are and they will do their best to adapt our offerings to you.
Invisalign
Invisalign is one of our methods for teeth straightening in Kent. Unlike traditional treatments, it involves clear aligners that fit close to your teeth. These are made out of specially designed, clear plastic through which you can see your smile. They are also relatively thin. All of this means that they appear almost invisible when you are wearing them. In addition, the aligners are smooth on the outside and so are comfortable for the inside of your mouth.
We offer a special Invisalign option for teenagers as well.
Six Month Smiles
Six Months Smiles is the other great partner we work with. This system is a little more like a normal brackets and wires treatment except that the brackets are clear and the wires are tooth-coloured so that they blend in with your teeth.
Six Month Smiles focuses on the front teeth that are visible when you smile. This is where most people have an aesthetic issue that they would like to fix. It is often possible to achieve results within four to nine months with an average treatment time of six months.
Back to Blog