Fast and discreet teeth straightening with adult braces in Kent
31 August 2017
All too often, when people hear the word braces, they picture a young teenager, with a mouth full of metal brackets and wires. As an adult, braces may not seem reasonable, but there are many discreet alternatives whether you wish to straighten your teeth without anybody knowing.
At Staplehurst Dental Practice, we appreciate that metal braces are not for everyone, especially adults who are self-conscious about their smile. For this reason, we offer a variety of discreet braces in Kent, most of which are designed for adults with busy lifestyles. Our experienced dentists will examine your teeth thoroughly and help you decide which treatment is ideal for you.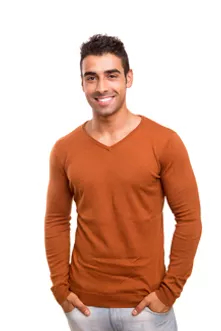 Invisalign
Speaking of invisible, Invisalign is perhaps the most recognisable form of adult braces, and for good reason. The treatment consists of a series of transparent, custom-made, removable, plastic trays that are created with 3D technology to help your dentist adjust tooth movement over time. At only 0.3mm thick, they all but disappear once on the teeth. Typically, you wear a set of aligners for two to three weeks before swapping them out for the next one in the series.
Treatment time varies from patient to patient, however, most patients see results within the first few weeks. Invisalign aligners can be removed whether you wish to eat or brush your teeth, however, they must be worn at least 22 hours a day for effective treatment.
Six Month Smiles
Six Month Smiles braces in Kent is a short-term teeth straightening treatment that helps align your front teeth in six months or less. Unlike regular braces, these braces are made of tooth-coloured brackets and wires. They are more comfortable to wear and do not require as many adjustments as regular braces. Six Month Smiles braces are ideal for patients who wish to have their front teeth straightened in preparation for a special event.
Over the years, we have had success with several methods for adult teeth straightening. By now, we are hoping you can see that adult braces are not something to be afraid of. Instead, they are a valuable tool that helps create a better and healthier smile.
Back to Blog