Neater teeth
22 August 2017
From our comfortable practice in Kent, braces are offered as a discreet way to bring your teeth into better positions. And while they'll enhance the appearance of your smile, they will also bring improvements to your oral hygiene that reduce the risk of tooth decay and gum disease.
Up-to-date options
When you think about wearing braces in Kent, the image that springs to mind might be the classic train track type of appliance that used to seem like the only method of straightening teeth. But at Staplehurst Dental Practice, our two main options are much kinder and subtler.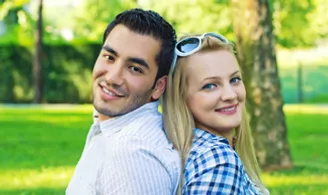 With the Invisalign system, a clear plastic aligner is placed over your teeth for the duration of your treatment. After we take a detailed impression of your mouth, using digital imaging equipment, a series of these aligners is precisely moulded from transparent plastic. You will then wear each of these aligners for around 2 weeks, before you move on to the next one. Your teeth will be gradually guided into new positions because the shape of each aligner is slightly different. They can be removed when you need to brush your teeth, and during meal times.
With Six Month Smiles, a tooth-coloured wires and clear ceramic brackets are securely attached to the front of your teeth. At social occasions in Kent, braces like these will make sure your appearance isn't drastically altered. As you can guess by their name, you may only have to wear these braces for as little as six months, depending on the condition of your teeth.
Consideration and preparation
Once you've decided on a course of braces in Kent, our team will book you in for a consultation. We will find out what you want, and assess your dental situation in detail, to find out which method is best. With a detailed treatment plan and regular visits to our practice, we'll keep things on track and ensure your treatment is as effective as it can be. After it's over, you may need to wear a retainer for a while, to help the teeth setline in to their new positions.
Back to Blog