Teeth straightening with minimal lifestyle impact
28 June 2016
Teeth straightening treatment is beneficial to patients of all ages, and no longer needs to involve metal braces. At Staplehurst Dental Practice in Kent, we believe that whenever possible dental treatment should fit around your lifestyle. That's why we are pleased to offer a number of discreet teeth straightening options that will have little impact on your day to day life.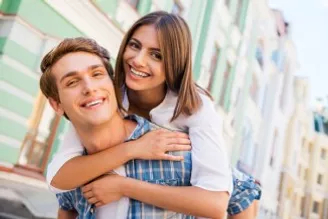 At our Kent practice, we are keen to point out that teeth straightening isn't only about aesthetics. Straighter teeth are often cleaner teeth, because by reducing the number of gaps and hard to reach areas, you reduce the places that dental plaque can build up.
Teeth straightening can cut your risk of both dental decay and gum disease, with regular visits to your dentist and hygienist and a good home cleaning routine. Because decay and gum disease can lead to tooth loss, which can impact on your ability to eat a balanced, nutritious diet, and because gum disease has been linked to heart disease and other medical conditions, there are numerous good reasons to straighten your teeth.
When you come for an orthodontic consultation at Staplehurst Dental Practice in Kent, your dentist will conduct a thorough examination to determine the type and amount of correction required, and will then recommend the best course of treatment.
Six Month Smiles
Braces are the staple of teeth straightening treatment, and Six Month Smiles cosmetic braces are designed to work both quickly and subtly on your front six teeth – those that show when you smile.
Unlike metal braces, which can be very obvious in your mouth, Six Month Smiles are made from clear and tooth-coloured components, so they will blend in with your teeth.
Invisalign
Teeth straightening with Invisalign involves the use of a series of clear, removable aligners that gradually move your teeth into better alignment. You can pop your aligners out to eat, drink, clean, and brush your teeth, which means no special dental hygiene practices are required.
Standard Invisalign aligners can correct a wide range of issues. For mild, rapid correction we offer Invisalign i7 at our Kent dental practice.
Back to Blog