The benefits of having straighter teeth
20 July 2017
Do you worry about crooked or unevenly spaced teeth? If you do then having straighter teeth may allow you to stop hiding your smile, dreading photographs or feeling awkward in social or professional situations. Did you also know that straighter teeth are healthier? This is because they don't have the nooks and crannies where plaque can accumulate, making them easier to clean. Also, properly aligned teeth work better as the bite functions correctly. At Staplehurst Dental Practice, we offer teeth straightening in Kent, which enhances oral health and gives you a smile to be proud of.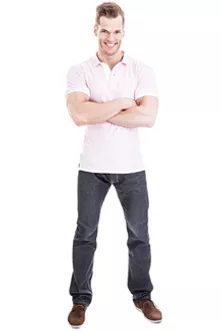 Your options for straighter teeth
Many people miss out on corrective work as a child and dismiss it as an adult due to concerns that procedures could be intrusive, unsightly, uncomfortable and time consuming. However, advances in technology mean that having straighter teeth does not rely on having a mouth full of metal for long periods. We are proud to provide our patients with almost invisible and rapid teeth straightening in Kent. Invisalign uses a series of clear plastic trays to gradually guide your teeth into place. They are almost undetectable and made of smooth plastic that fits your mouth exactly. The aligners can be removed for eating and cleaning so fit into your lifestyle easily. The Six Month Smiles process uses a fixed tooth-coloured brace and, as the name suggests, works very quickly. As treatment time is very fast, you also cut down on costs so you may be surprised at how affordable having teeth straightening in Kent is.
Alternatives to braces
If your teeth are not seriously misaligned you may be able to have teeth straightening in Kent using veneers. These are thin sheaths of porcelain that are carefully handmade to match the tone of your existing teeth. They can be fixed to the tooth in such a way that they minimise gaps and give the illusion of straighter teeth without the need for braces. This can save time and money so you can have a more attractive smile without having to wait.
For our patients in Kent, teeth straightening has given them the smile they long for. To find out how we can help you, please do get in touch with our experienced team today.
Back to Blog