The gentler, quicker way to teeth straightening in Kent
23 February 2017
Six Month Smiles is the brand name of one of the most well-renowned treatments for teeth straightening in Kent.
If you are over 18 and wish you had got teeth straightening in Kent as a youngster, or maybe you did and they've gone out of alignment again, then Six Month Smiles might well be the solution you have been waiting for.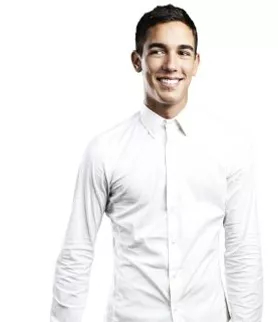 This clear braces system is aimed at patients whose front six teeth, the ones most on view, need some straightening, but who have no other serious problems with their bite.
With this system of teeth straightening in Kent, the teeth are moved using discreet fixed braces (fixed braces work faster than removable aligners), manufactured from clear ceramic brackets and tooth-coloured wires. Brackets and wires use standardised mechanics to move the teeth, but because the aim is to improve the appearance rather than the bite, much gentler forces are needed to shift the teeth. This makes the treatment less painful, and also means there is a lower chance of root damage.
When you come to see us for Six Month Smiles at Staplehurst Dental Practice, it takes about three weeks to have your individual braces made to order, and the teeth straightening process itself takes much less time, usually between four and nine months rather than two or more years.
When the teeth have been moved into their new position, and the braces treatment is over, you will need to wear a removable retainer to keep your teeth in their new place in the jaw. If you find that you keep forgetting to put that retainer in, you can choose to have a bonded retainer fitted. This is also invisible.
Also, when your teeth have reached their final destination and your braces have been removed, we will whiten your teeth to make your new smile as bright as it is beautifully aligned.
Our dentist, Dr Jan Einfeldt, will look after you in person throughout the treatment. Dr Einfeldtis an international clinical instructor for Six Month Smiles. He teaches in Ireland, Germany, Austria, Switzerland and the UK.
Why not come in for a free consultation and see if Six Month Smiles will work for you?
Back to Blog