Teeth straightening treatment doesn't need to mean obvious metal braces
10 May 2016
Teeth straightening treatment in 2016 does not have to mean obvious metal braces. At Staplehurst Dental Practice in Kent, we offer a range of more discreet treatment options for both adults and teenagers. We welcome new patients for orthodontic consultations to discover how we could help you.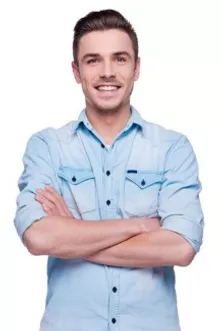 In the modern day and age, teeth straightening can be achieved in a number of different ways, all of which are far more subtle than traditional metal train-track braces. At our Kentdental practice we offer treatment with both fixed appliances (braces) and removable ones (aligners) – many of these options work in as little as six months.
When you come into our Kent clinic for a teeth straightening consultation, your dentist will perform a thorough clinical examination, then will talk you through all the relevant treatment options, so that you can be sure you are entirely happy with your choice before treatment begins.
Braces
Braces remain the staple of teeth straightening treatment, and are the best option in many cases. At our Kentdental centre we have successfully used Six Month Smiles braces to treat numerous patients.
Six Month Smiles are cosmetic braces, designed to work primarily on those teeth that show when you smile. They are made up of tooth-coloured and clear components, and work in an average of six months.
Aligners
At our Kent clinic we also provide teeth straightening treatment with Invisalign clear aligners. These removable devices have minimal impact on your lifestyle, fitting snugly over your teeth. Staplehurst Dental Practice offers a range of Invisalign products, from the standard series of aligners (that can correct a wide range of orthodontic issues) to Invisalign Teen, specifically designed to suit the needs of teenagers, and Invisalign i7, which are made for rapid, mild orthodontic correction.
Back to Blog